CHEERS
40' proa for 1968 OSTAR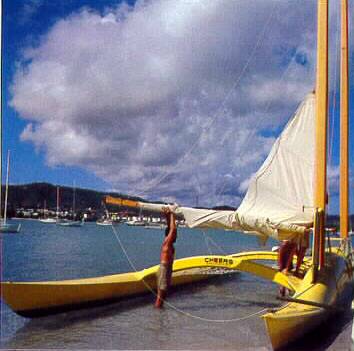 CHEERS was piloted in the 1968 OSTAR (Observer's Singlehanded Trans-Atlantic Race) from Plymouth, England to Newport, Rhode Island by skipper Tom Follett in 27 days, 13 minutes. He finished 3rd overall, beaten only by two monohulls, the 56' Sir Thomas Lipton and the 50' ketch Voortrekker. Follett sailed from the Caribbean to England before the race and from Newport back to St. Croix afterwards.

For the full story, read 'Project Cheers' (Adlard Coles, 1969), a book detailing the saga of Newick's giant-killing Atlantic proa.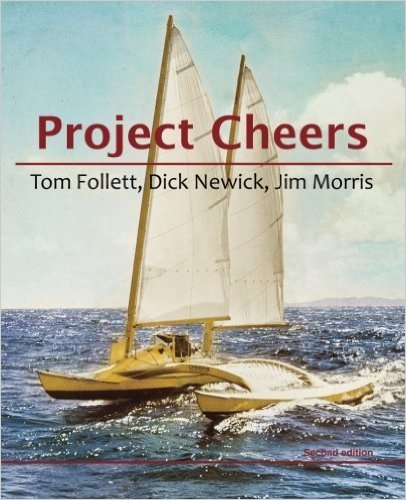 Project Cheers, 2016 edition
The book re-published! by Port Townsend Watercraft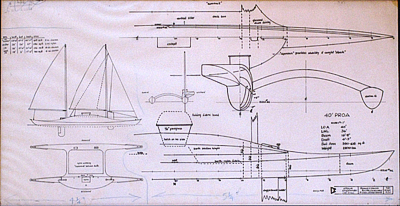 Dick Newick's drawing of Cheers at 2800 pixels wide (952 kb), from Skip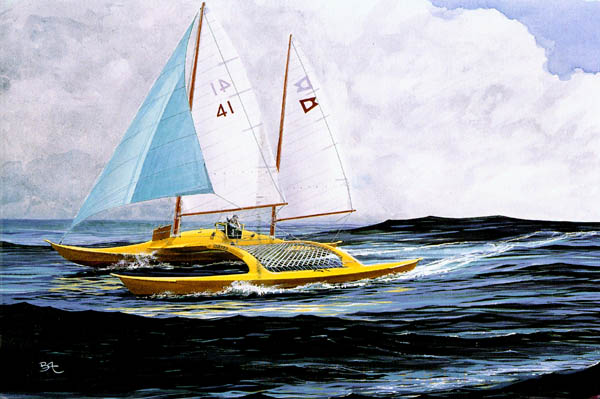 Painting by Bruce A. Alderson, ASMA
68 Wilmarth Bridge Road, Rehoboth, MA 02769 (508)336-5298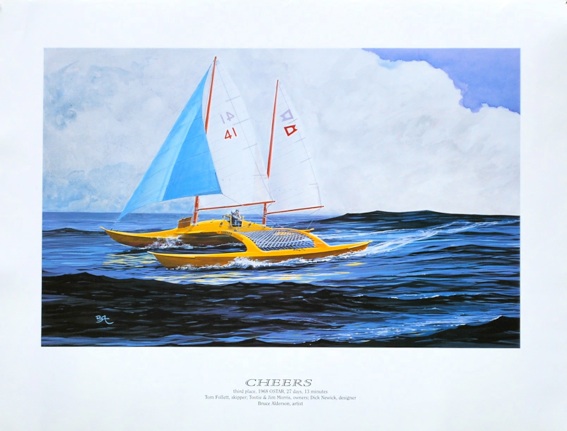 Proa Cheers Posters For Sale
from Port Townsend Watercraft
Race Committee letter, October, 1967: Royal Western Yacht Club of England
"I notice that you are taking steps to enable the crew to right the vessel when it has capsized, but my committee are more interested in any steps you may take to stop the capsizing in the first place. We are still of the opinion that to race along at 25 knots in between periodically capsizing is not a proper way to cross the Atlantic..."
French doctors Vincent and NÚlie Besin now own and have restored CHEERS with the financial help of the French goverment which has declared her a "monument historique", one of less than 100 small craft and the only multihull.
Dick Newick, April 19, 2002
June 1968
image scanned by Matthieu Rougevin-Baville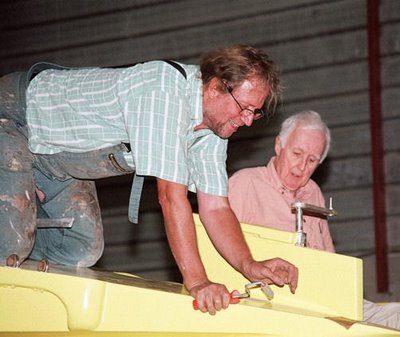 ---
VIDEO: Tom Follett sailing! (at 7:19)
---
---
Cheers launch video begins at 01:52, starts with footage aboard Moxie!
MOXIE, two Kelsalls)
and Newick proa CHEERS, sailing in the South of France.
Six vintage racing trimarans (four Newicks including
Note:
CHEERS
defines the "
Atlantic Proa
" style with primary displacement (accommodation and rig) always to weather and
full length ama to leeward
supplying at least 100% buoyancy. Alternatively, the traditional Micronesian style "
Pacific Proa
" or "
flying proa
" carries primary displacement to leeward on a larger main hull with smaller ama (10-30+% displacement) to windward, routinely lifting and flying the smaller hull.
---