---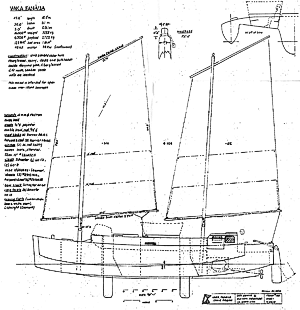 An "island freighter" trimaran - affordable, safe, economic, flexible and regular transport for Pacific outer island communities.
---

Native at Corinthian YC
Tiburon, California


Native NAGA
hauled in Vanuatu
Trinidad in '03
to Australia in '06,
photos and text


White Wings 36' trimaran

---
MOXIE on autopilot at 16 knots!
Sailing 50' Newick trimaran MOXIE between Woods Hole and Martha's Vineyard, 1987. Dick Newick, Russell Brown, Rick Haslett and Joseph Oster (cameraman)
---
Trimaran
Mocking Bird
, featuring Dick Newick and Jim Brown
---
Delivering vintage Newick trimarans in the South of France.
ex Fleury Michon 4, ex GIGI-CGA.
---

Native 38' SWEET at 13 knots on autopilot in the canal of St. Vincent to St. Lucia

Sortie du chantier RIVE SUD du trimaran PATS Ó SETE, 2013
---
Tremolino, a 23 foot trimaran for the masses -
---
Seaworthy design: Kittery Point man an international legend
---
"By breaking the barriers of both performance and acceptance, Dick Newick can be called the Chuck Yeager of multihulls"
-- Jim Brown, Wooden Boat magazine, May 2008
---
Inducted into the North American Boat Designers Hall of Fame
SAIL magazine article, March 16, 2008
Legendary Designers Jack Hargrave & Dick Newick
Inducted Into Boat Designers Hall of Fame
Westlawn Institute of Marine Technology
---
Profile and interview with Dick Newick on NEMA
(and a tribute to Walter Greene)
---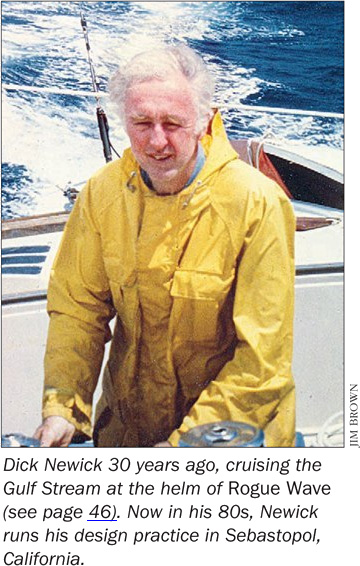 Intuitive Dynamics
article by Steve Callahan
Professional Boatbuilder Magazine
#122, December/January 2010
"The venerable Dick Newick, a pioneer in sailing multihulls, continues to deliver designs whose simplicity and grace, even at rest, are evocative of seabirds. His fast, safe, oceanĚproven multihulls can truly be said to have been ahead of their time."
---

Mike Birch, 1980 OSTAR - Phil Weld appears at 18:04 and 39:04 (w/ MOXIE)
email contact: Pat Newick